TEXPIEL registered as TEXTILES Y ARTÍCULOS PARA EL CALZADO, S.L emerged in 1993 with the production of textiles for shoes and leather goods as their main activity. Our company has been making progress by adapting ourselves to the constant changes which take place in our sector, both in materials and design.
Our major pillars are the service, the innovation and the customer and all our work is based on them. In order to deal with the different markets, we attend to the numerous international fairs and we have a commercial network that embraces the main areas of this sector in Spain and in many countries.
TEXPIEL is located in one of the most important industrial shoe areas in Spain, specifically in Elche, a town that is near the international airport of El Altet, Alicante.
Low impact and local production
One of our missions is not to generate
pollution through various actions:
LOCAL PRODUCTION
By producing in our near environment we generate local trade and avoid producing and transporting from far away. The result is more local support, faster and more reliable production times and no pollution due far transport emissions.
VEGAN MATERIALS
More than 95% of our collection is suitable for vegans, which means no animals are raised to produce raw materials and consequently less environmental impact.
SALE OF STOCKS
We have a list of items that are leftovers from production that we offer to customers at a reduced price. We avoid producing more, offering a more sustainable alternative – not producing is not polluting – and also more economical.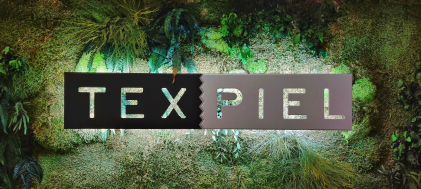 SALE OF STOCKS
It is already more than a trend, it is a signature and hallmark of our company, which has been committed for years to ecological and recycled materialstwith low carbon footprint and environmental impact. Recycled cottons, acrylics and polyesters made with post-consumer fibres and fabrics made with recycled plastic components from the sea are already an irreplaceable basic in our collection and transmit our social conscience with nature and wellbeing.
Texpiel products made with Seaqual Yarn
containing Upcycled Marine Plastic
HONG KONG 
CW PELLETEX
Flat B, Jing Wah Building, 10
Sam Chuck St.
San Po Kong, Kowloon, Hong Kong
Tel: 852 3426 8887; 852 3426 8767 
Fax: 852 3753 2322 
E-Mail: alex.cnw@gmail.com 
Contact: Mr. Alex Chan
CHINA
C&W TRADING CORPORATION 
Rm 729, Tianhe Shoes City, 20-22 Zhanxi Road Zip Code 510010 GUANGZHOU 
Tel: 020 8622 5459-69 
Fax: 020 8622 5346 
E-Mail: alex.cnw@gmail.com 
Contact: Mr. Alex Chan
ERIKSEN DESIGN & CONSULTANCY SARL
Tel: +33(0)63409166
E-Mail: te@leiferiksen.dk
Contact: Mr. Torben Eriksen
P.M. DISTRIBUTION SARL
5, Rue de L'Herbray 44120 VERTOU
Tel: +33 240 030 027
Fax: +33 240 340 261
E-Mail: morelpatrick@hotmail.com; padruig.m@wanadoo.fr
Contact: Mr. Patrick Morel
MR. RICCARDO CAPONI
Via G. Puccini 8 56031 Bientina (PISA)
Tel: 3318887326
E-Mail: caponiriccardo@libero.it
LOMBARDIA – VENETO –
E. ROMAGNA LE MARCHE
MR. ALFREDO FINAZZI
Via Roma 19/Bis 37060 Gazzo Veronese, Verona
Tel: 3356756147
E-Mail: alfredofinazzi1@gmail.com
VANGUARDSUN, IMPORT EXPORT
UNIP. LDA
Praceta Humberto Delgado 86
4430-497 Oliveira Do Douro – Vilanova de Gaia
Tel: +351 227 830 558;
Fax: +351 227 830 739
E-Mail: vanguardsun.imp@gmail.com
Tel. Berta Carvalho: 351 919435407;
Tel. José Lima: 351 917553164
ELX/ELCHE
TEXPIEL – TEXPIEL TEXTILES, S.L.
Juan Negrín, 31
(Elche Parque Empresarial)
Apartado de correos 5019
03203 ELCHE (Alicante)
Tel: +34 96 568 36 89
Fax: +34 96 568 36 90
E-Mail: texpiel@texpiel.com
ALMANSA
RUTOPAS –
ARTICULOS PARA EL CALZADO
Pol. Ind. "El Mugrón" 
2ª Fase Metalúrgicos (esquina Tejares)
03640 Almansa (Albacete)
Tel: 967 340 539
Fax: 967 313 262
E-Mail: info@rutopas.com
LA RIOJA /ZARAGOZA /
FUENSALIDA / GALICIA
CRISTIAN ALBA CRESPO
AVENIDA DE LA DIPUTACIÓN, 12 50250 ILLUECA (Zaragoza)
Tel: 680464331
E-Mail: cristian.alba.crespo@gmail.com